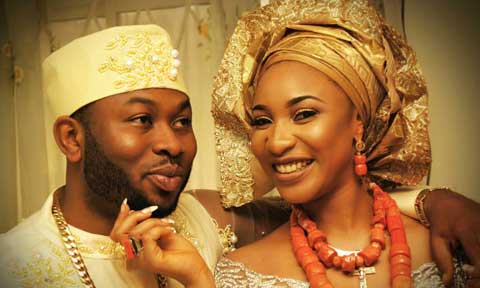 Indications are that the 17-months-old marriage between Nollywood star actress, Tonto Dike and her estranged husband, Oladunni Churchill have broken down irreparably.
The popular actress has deleted all her estranged husband's photos from her Instagram page @tontolet. Also deleted are all photos from her traditional marriage with him.
Tonto had accused her husband of cheating on her. There were groundswell of rumours, especially in the social media that the actress' husband was in a relationship with Bobrisky, Rosaline Meurer, among others.
Nollywood actor, Uche Maduagwu once posted that Churchill 'has relationship with Bobrisky and Swanky Jerry – Jeremiah Ogbodo, Tonto's fashion stylist 'rumoured to be gay.' Though he later deleted the post.
However in a chat with Encomium, Churchill denied the accusations. He said, "Truly, I did not see it posted because I'm not a social media person, but got wind of it later.
"It sincerely beats my imagination to think of such relationship.
"Well, I don't know Bobrisky but got to know Swanky Jerry through my wife.
"I believe whoever my wife likes as a friend, I also take as a family friend.
"Am too busy to think of such unpleasant issues, let alone cooking up defense."
He added that he hasn't been able to reach his son who he misses so much because Tonto Dikeh won't pick his calls.  "Every family has its ups and downs but I would not want to talk about my family," Churchill said.
On the allegation that he left home and is allegedly having an affair with his PA, he said, "Well, it's funny to me, because I don't have female personal Assistant, My PA is Mr. Paul, who has been working with me over the years. Besides, it was a sponsored blackmail."
Churchill refused to talk about the whisper that his wife had caused an uproar in his mother's home and reportedly pushed her down and broke everything in her house within 2 hours due to her 'marijuana reactions'.
"These issues are private to me and my family.
"Rumours going around she moved out due to domestic violence from me, I wonder where they got such gist from.
"I don't believe my wife will say that, besides I frown against such even my foundation preach against domestic violence in some of our charity awareness campaigns.
"It is obvious that all these channeled attacks are targeted to drag my image and what I believe in to the mud.
"Well, the truth is that I have never raised my hands against my wife.
"I have evidence of CCTV Cameras in my mum's house when this happened. It can be replayed if you want us to go that far," he said
The female PA, Rosaline Meurer, who allegedly had sex with Tonto's husband, also denies having carnal knowledge of Churchill, who she claims is like a family member to her.
The rocky marriage is blessed with one son.
---
---
Categories: News