An 18-year-old German-Iranian killed 9 people and wounded 21 others in a shooting rampage in Olympic shopping mall Munich, Germany on Friday evening before he killed himself, said Munich police early on Saturday.
The police believes he acted alone but the motive for the attack is still not clear. The lone shooter held dual citizenship of Germany and Iran and lived in Munich for two years, with no criminal record, said Munich police chief Hubertus Andrae at a press conference early Saturday.
Three of those wounded are in serious conditions, said Andrae, adding that some children were wounded.
Most of the people were killed at the MCDONALDS inside the mall. Witnesses said that he targeted children and shouted "Allah Akbar" as he shot. Police said the shooter eventually shot himself and his body was found on a roadside near the shopping center.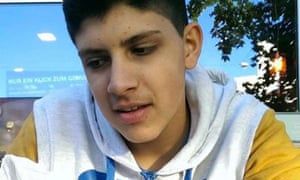 Photo showing Munich guman Ali Sonboly, who classmates say was bullied at school.
Based on witness statements police initially believed that there were three attackers, said Mr Andrae. Two people had left the scene in a car at high speed, but it soon became clear they had nothing to do with the attack.
He said 2,300 police officers were deployed in Munich, including the GSG9 anti-terror special forces and Austria's Cobra force.